Exploration
Beginners
For 36 weeks on Saturdays, participants will learn the historical context of the word of God. Participants will come to understand that the word of God is not a fable, but instead, clearly documented series of events that have been recorded by eyewitnesses and inspired by God to put it down in words. The intent of this 9 month track is to give believers a better understanding of how the word of God ties everything together and giving you a 30,000 feet view where you will clearly come to understand how the books of the Bible are tied together and you will be able to fully grasp the word as you study each book understanding the before and after.
Intermediate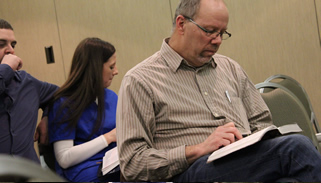 For 36 weeks on Saturdays, participants will do deep dives in various books of the word of God to understand what God was saying to His people then and what He is saying to us now. The intent of this 9 month track is to strengthen your relationship with Jesus Christ as you grow in spiritual maturity. It is our prayer and hope that you will begin to apply the intent of what you learn from the word of God in your life. A closer relationship with Jesus yields wisdom and understanding. A renewed mind as it is written in Romans 12:1-2 allows the Holy Spirit to show us what God is speaking to His children and the way back to Him through Jesus Christ. The Holy Spirit bears witness to the truth and the word of God bears witness to what is in you. Participants will walk away with a deeper understanding of the word of God as your relationship with Jesus Christ is strengthened. Romans 5:1 tells us we are justified by Jesus. He died for us so let's make sure we are living for Him. Read Matthew 28:16-20
Advanced
For 36 weeks on Saturdays, participants will fully come to understand the tools God gives us as His Children to disciple others. We are Kingdom Citizens with all of the rights and privileges given to us by the King of Kings.
Romans 8: 14-17

14 For as many as are led by the Spirit of God, they are the sons of God.

15 For ye have not received the spirit of bondage again to fear; but ye have received the Spirit of adoption, whereby we cry, Abba, Father.

16 The Spirit itself beareth witness with our spirit, that we are the children of God:

17 And if children, then heirs; heirs of God, and joint-heirs with Christ; if so be that we suffer with him, that we may be also glorified together.

As an equipped believer, you will have a deeper understanding of what is going on in the spiritual realm that gives you wisdom for how to deal with things you face in the natural realm. And you will understand more about your purpose here in on earth.